Weststream WS-S, a light, stable and sporty model
Inflatable boat with nice lines, high performance, low weight and fully packable and portable. Large pontoons and catamaran hulls provide outstanding stability and make it a popular dinghy.
Tapered tube in the bow, easy to step in and out of
Portable, packed quickly in 2 bags
From bag to water in minutes
Quick and easy assembly
Low weight (25kg, WS-S26)
High stability in the water
2x rapid self-tapping transom
Aluminum transom
Strong protection under the tubes
Valmex® PVC in the tubes
Valmex® Diamond anti-slip protection on the floor
Welded seams, for best tightness
Large diameter of the tubes (48cm)
Rec. for 2.5hp to 20hp engines
Easy to row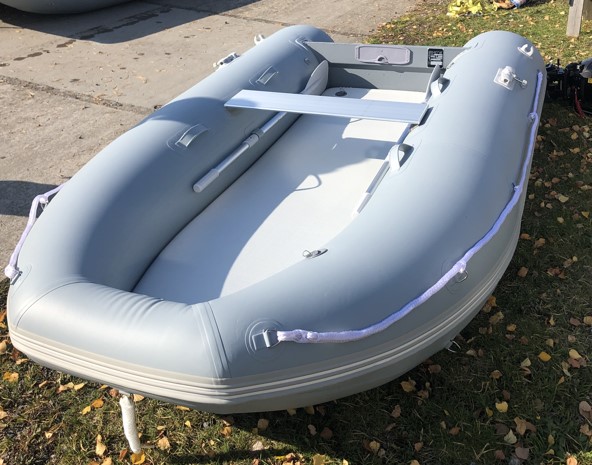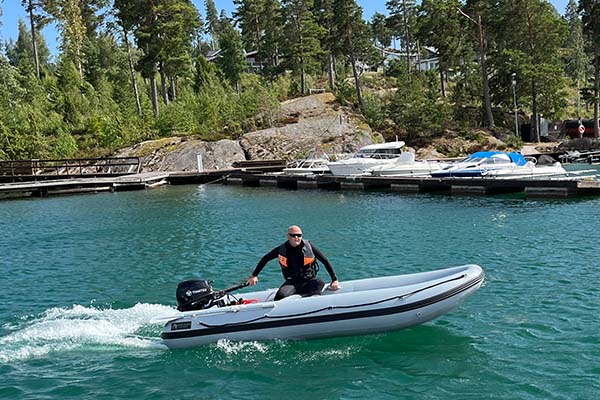 Catamaran hulls have an outstanding stability in the water, plan ahead, take high seas safely. The closed bow has tapered tubes to provide more space inside the boat and provides easier entry and exit. For you who do not want to go the whole step to open for but still have the benefits of the features that a catamaran hull provides.
Our unique transom with 2 x rapid self-tapping
When we designed our transom in aluminum, we took advantage of one of the advantages of the catamaran hull, that the floor is a bit up from the underside of the tube means that we can have a completely open self-drain. We have 2 self-booms to provide a safe boat. All water that may enter flows out quickly, in case of rain, when it is dragged behind another boat, when you bathe from it and get water up with you and when you have to clean the boat, just to rinse it out.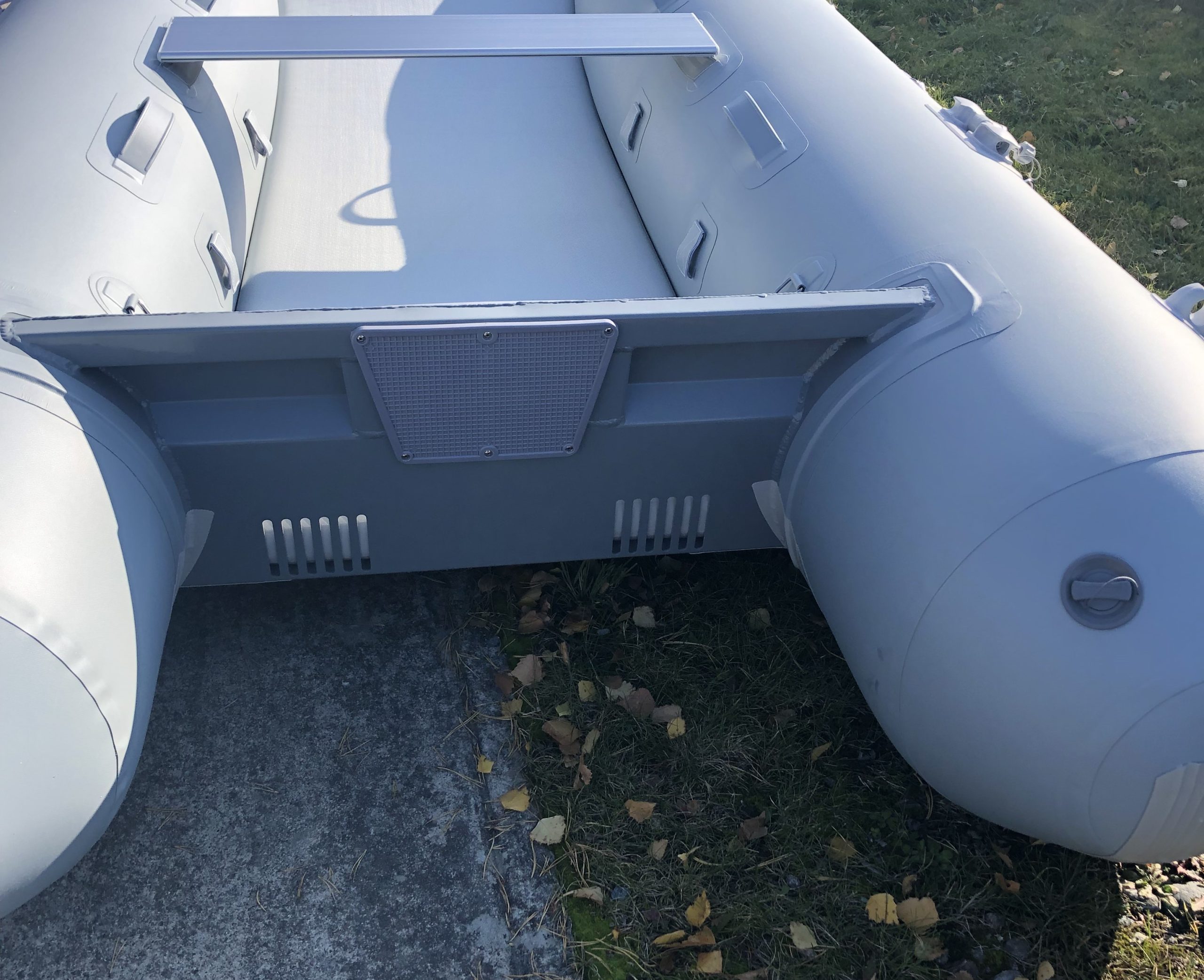 Heavy duty tube protection that provides strong protection, together with Weststream's hull design, means that you can go ashore almost anywhere and go all the way to land, where v-bottomed boats stop at shallow water.
High-pressure floor made of reinforced dropstitch material to get a rigid stable floor
Anti-slip protection Valmex® Diamond on top of the floor
Side reinforced 1.8mm to increase stiffness
Tuber, Valmex® PVC 0.9mm, 1100 decitex
Anti UV tested to 4-5 out of 5 according to International standard ISO 4892-3: 2006
High-pressure floor made of reinforced dropstitch material to get a rigid stable floor
Anti-slip protection Valmex® Diamond on top of flooring
Welded seams for maximum density and durability
Aluminum transom
Heavy duty tube protection under the tubes
International standard ISO 6185
Aluminum transom
2 x rapid self-draining
Tuber, 48cm
High pressure floor 10cm
Aerodynamic hull that works well in all types of lake
Weststream tube design, easy to get in and out of
Self-draining and catamaran hulls keep the water out of the boat
Catamaran hull makes the boat go well in wavy conditions and you get closer to land before the hull takes to the bottom
Heavy duty tube protection
2 x pressure relief valves
5 air chambers incl. Floor
Toft of aluminum
Annual holder
Safety lines, outside
Internal handles
Oar velcro holder inside
Aluminum transom provides a lighter inflatable boat and maximum durability.
Nothing that can be destroyed by water
The catamaran hull and the location of the floor prevent large amounts of water from entering
Easy to clean and the boat will never be filled with rainwater or waves
2x rapid self-draining that empties the boat from water quickly
Weststream is delivered with 2 bags to be able to handle and stow away in the best way.
Bag 1: The tubes
Bag 2: Floor, oars, pump and tuft
The tubes can be rolled according to the dimensions below.
Model Dimensions in cm, bag 1 & 2
WS-C26 90x55x25 / 90x35x15
WS-C30 95x55x30 / 95x35x15
WS-C34 100x65x35 / 95x45x15
WS-C38 100x65x35 / 95x45x15
WS-C47 100x65x40 / 95x45x15
WS-S26 90x55x25 / 90x35x15
WS-S30 95x55x30 / 95x35x15
WS-S34 100x65x35 / 95x45x15
WS-S38 100x65x35 / 95x45x15
Aluminum oars, divisible
Toft of aluminum
Manual pump
2 bags
Repair kit
Tubes (boat)
Floor
4m mooring line
12v electric pump Speedy
Rod holder
Waterproof bag 30 liters
Transport wheels