We have paddled SUP for 10 years and manufactured boats and SUP boards for about the same length of time. We have chosen to work with the best materials and our SUP boards are manufactured according to the latest MSL technology together with an X-Woven drop stitch core. The result gives a rigid board and thus it gives good speed and stability. Equipped with an EVA deck of Crocodile pattern for low weight and good grip.
You get out into nature, you move and it's relaxing. But it can also be a great form of exercise with heart rate-boosting paddling.
Weststream SUP boards are for the whole family and are also one of the most stable boards on the market. The boards are easy to handle thanks to their round design which makes it easy to maneuver while it can be paddled by the smallest in the family. The result of our work with the board's construction and design provides a SUP board with a wide middle and long waterline that adds stability and load-bearing capacity. Comes with all equipment, paddle, really good pump, leash and a solid backpack. We work with the best materials and manufacturing techniques the market has to offer.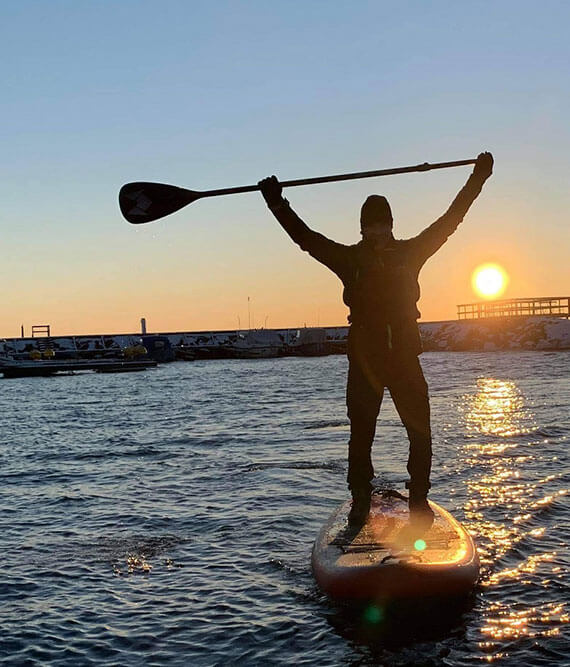 Paddling SUP is a wonderful experience, even when the sun is not at its best. Therefore, we give tips here on which clothes are best suited.
Sunshine – Swimwear, t-shirt, top, shorts and possibly something on the head to protect against the sun
Cloudy – Swimwear, t-shirt, long sleeves and possibly a pair of tights
A little rain – Swimwear, t-shirt, windbreaker and possibly a pair of tights
A lot of rain – In case of a lot of rain or thunder, we do not paddle!
Windy – Tights and a windbreaker
We paddle barefoot as the feet can get a little wet.
Otherwise, you can think of wearing soft clothes with good mobility.
Afraid of falling into the water and getting wet? Do not worry. If you feel unstable, you can paddle sitting on your knees, when you then feel safe, you can stand up.
Everyone can paddle! If a paddling has ended with a splash, it is either voluntary or your company that has put you in.
If you stay on the water, you should always think about safety and here are some tips, advice and requirements.
You must be able to swim to paddle the SUP board as you may fall into it
If you fall in, calmly get back on the board, which is not difficult
Our boards are equipped with a leash (an elastic band) that you attach to the board and around the ankle. This is a safety feature so that the board does not slip or blow away from you.
Life jackets are good and we recommend using them
For longer paddles, bring a drink and mobile phone (in a waterproof bag) in case something should happen
If you paddle in a group, we stick together and have fun together
In sunny weather, sunscreen should be used, recommend a zinc paste for maximum protection as the water amplifies the sun's rays
There are hard boards and inflatable boards. PaddlaSup has chosen inflatable boards which are the most common variant.
It is easy to pack in a backpack
Easy to take with you
Significantly more durable than hard boards.
The construction consists of a core of a lot of nylon threads that hold together the top and bottom and the shape of the board itself. This core is called drop stitch. The core then has slightly different surface layers depending on quality, etc. PaddlaSup uses the market's best materials and manufacturing technology. Our boards have a length from 10'6 to 11'6 feet (3.2-3.5m), they are 6 'thick (15cm) and 80-86cm wide. You can inflate them to different pressures and the recommended is 13-20 Psi depending on the board and weight. All this together gives a strong and rigid board that is suitable for both beginners and experienced paddlers. The boards are pumped with a "triple action pump" that pushes in air both at pressure and draft.
You use a leash around the foot as security as the board can easily drift away if you fall in.
Paddling SUP stand up paddleboard is not particularly difficult. Here we explain how you can best get started.
Balance
To get the best balance, we place the feet shoulder-width apart just behind the middle of the board (the handle on the board is a good starting point), the toes should be directed forward. Bend your legs slightly to be able to move and be able to parry any movements from the water. If it feels unstable, it is good to start standing on your knees at the same position on the board.
Paddle
The paddle is one-sided and should be body length + about 20-30cm, we paddle on one side at a time and the right hand should be at the top when we paddle on the left side, the left hand is then placed about 80-100cm below.
Place the paddle far forward in the water and push the upper hand forward and pull the lower hand backwards. The paddle must be placed in the water as straight as possible to avoid the board swinging, otherwise we paddle about 3-4 paddle strokes on one side and then paddle on the other side.
Technology – Swing smoothly
To turn, there are 2 variants, the slightly more stable variant, we paddle forward on one side of the board and paddle backwards on the other side. The faster version, we move further back on the board and paddle only on one side. The further back on the board you stand, the faster the board swings.
To stop your SUP, you put the paddle like a brake – or in the worst case, you throw yourself into the water